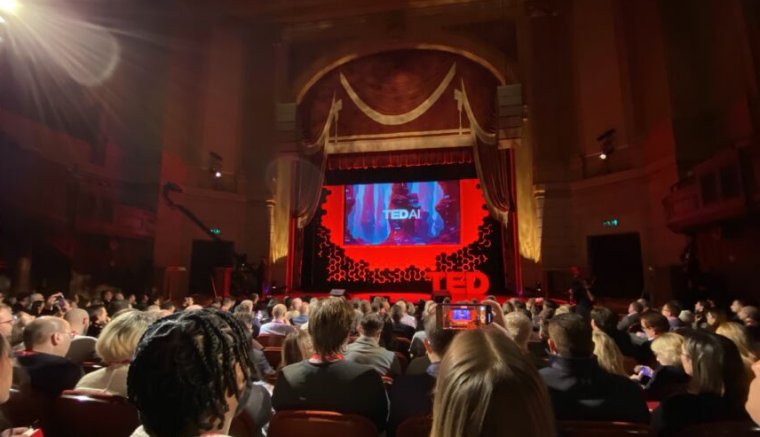 SAN FRANCISCO—On Tuesday, dozens of speakers gathered in San Francisco for the first TED conference devoted solely to the subject of artificial intelligence, TED AI. Many speakers think that human-level AI—often called AGI, for artificial general intelligence—is coming very soon, although there was no solid consensus about whether it will be beneficial or dangerous to humanity. But that debate was just Act One of a very long series of 30-plus talks that organizer Chris Anderson called possibly "the most TED content in a single day" presented in TED's nearly 40-year history.
Hosted by Anderson and entrepreneur Sam De Brouwer, the first day of TED AI 2023 featured a marathon of speakers split into four blocks by general subject: Intelligence & Scale, Synthetics & Realities, Autonomy & Dependence, and Art & Storytelling. (Wednesday featured panels and workshops.) Overall, the conference gave a competent overview of current popular thinking related to AI that very much mirrored Ars Technica's reporting on the subject over the past 10 months.
Indeed, some of the TED AI speakers covered subjects we've previously reported on as they happened, including Stanford PhD student Joon Sung Park's Smallville simulation, and Yohei Nakajima's BabyAGI, both in April of this year. Controversy and angst over impending AGI or AI superintelligence were also strongly represented in the first block of talks, with optimists like veteran AI computer scientist Andrew Ng painting AI as "the new electricity" and nothing to fear, contrasted with a far more cautious take from leather-bejacketed AI researcher Max Tegmark, saying, "I never thought governments would let AI get this far without regulation."