In today's digital age, our mobile devices house a significant portion of our lives. From memorable photos and videos to important documents and messages, our iOS devices store vast amounts of data that we can't afford to lose. However, accidents happen, and whether it's due to a software glitch, unintentional deletion, or even hardware damage, losing data can be distressing. Thankfully, numerous data recovery tools are designed specifically for iOS devices. These tools are your best bet to retrieve lost or deleted files.
In this article, we'll detail some of the top data recovery tools for iOS.
When disaster strikes, having a reliable tool can make all the difference. Enter TensorShare's UltData – a comprehensive data recovery solution crafted meticulously for iPhone users. The software's versatility shines through its ability to facilitate data recovery not only from the device but also from iCloud and iTunes backups. Given the varied types of data iPhone users typically store, UltData's wide-ranging support for different file formats and data types ensures users have the best chance at a successful recovery.
Features:
Direct data recovery from iPhone, iTunes backups, and iCloud.
Advanced iOS system repair capabilities.
Wide-ranging support for up to 35 file formats.
For iOS users who appreciate simplicity without compromising on functionality, EaseUS MobiSaver serves as a beacon. Recognizing the myriad reasons for data loss – be it a slipped iPhone landing screen-down or a tumultuous iOS update – MobiSaver equips users with a triad of recovery modes. This flexibility ensures optimal recovery regardless of the cause of data loss.
The swift download process, thanks to efficient servers, makes for a smooth start. Furthermore, users can tailor their experience by choosing between the Free and Professional versions. While the Free version offers a taste of the tool's capabilities with some restrictions, the Pro version is an all-access pass to unlimited data recovery, coupled with perks like priority support and lifetime updates.
Features:
Tri-mode recovery: Direct from iOS device, iTunes backup, and iCloud backup.
Comprehensive data type support: From essential contacts and text messages to invaluable voice memos and browsing history.
Tailored experience with Free and Professional editions.
Accidentally deleted a file or lost a cherished memory on your iPhone? Positioned as a comprehensive solution, FonePaw iPhone Data Recovery facilitates the recovery process by diving deep into your iOS devices, iTunes backup, or iCloud. This means, irrespective of whether you have a backup or not, this tool might have the potential to retrieve those valuable files for you. And it's not just limited to messages or contacts, but it scales across various file types ensuring you regain almost everything you lost.
Features:
Direct recovery from iPhone, iPad, and iPod touch.
Extraction and recovery from iTunes and iCloud backups.
Comprehensive recovery support including photos, messages, notes, and more.
File preview functionality before actual recovery.
Updated to support the latest iPhone 14 and iOS 16.
Imagine losing a precious photo or video memory, and you're racing against the clock to retrieve it. iBeesoft iPhone Data Recovery offers a swift solution, especially for media files. Whether you aim to recover data directly from your device or extract specific files from iCloud and iTunes backups, this tool ensures precision and accuracy. Notably, its support spans various daily-used files, making it a versatile companion for any iPhone or iPad user.
Features:
Advanced scanning of iPhones and iPads for direct recovery.
Extraction from both iCloud and iTunes backup files.
Support for over 20 distinct file types.
Preview of recoverable files before initiating the recovery process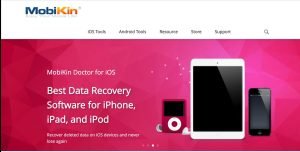 The name 'Doctor' is quite apt as this tool acts as a proficient caretaker for your iOS data. MobiKin Doctor for iOS stands out with its unparalleled compatibility, supporting an extensive range of Apple devices. Whether you aim to recover basic data like contacts and messages directly from your device or a plethora of other data types from iTunes backups, this software has got you covered. Its additional backup feature ensures you have a safety net moving forward.
Features:
Direct recovery from iOS devices' internal memory.
Comprehensive listing of deleted and existing files for user flexibility.
Seamless extraction and display of iTunes backup data.
Dual functionality – both recovery and backup of iOS data.
Strict adherence to a read-only rule, ensuring data safety.
In the realm of data recovery, Apeaksoft stands tall with its robust iPhone Data Recovery software. Equipped to tackle a range of unfortunate events like system crashes, accidental deletions, or the mishap of a stolen phone, Apeaksoft ensures your data isn't lost for good. It's designed to navigate through the maze of your iOS system, iTunes, and iCloud backups to retrieve invaluable data. With a focus on a variety of data types – from call logs and notes to photos and app data – it ensures a comprehensive retrieval process.
Features:
Recovery from direct iOS device, iTunes, and iCloud backup.
Versatile data recovery, spanning across messages, photos, notes, and more.
Preview functionality allowing users to identify and select specific files before recovery.
Compatible with an extensive range of iOS devices and versions.
TunesKit emerges as a versatile platform for all your iPhone data recovery needs. Whether you're looking to retrieve standard information like SMS or contact details or more intricate data types like voice memos and videos, TunesKit promises a solution. One of its standout features is its ability to recover encrypted data, a rare trait in the data recovery domain. By ensuring the newly recovered data doesn't overwrite existing data, and providing users a preview of lost data before restoration, TunesKit focuses on user agency and data integrity.
Features:
Capability to recover encrypted data, a niche but vital offering.
Preview functionality that aids in selective data restoration.
Ensures recovered data doesn't overwrite existing data on the device.
Data recovery from iCloud backups, expanding its recovery channels.
Stellar, a renowned name in the data recovery universe, brings forth the Stellar Toolkit for iPhone. This multifaceted tool goes beyond the typical data recovery functionalities. Not only is it efficient at pulling out lost data from iPhone, iCloud, and iTunes, but it also stands out with its ability to recover chat message attachments. Its user-friendly GUI ensures that even the most tech-averse individuals can navigate it without a hitch. Moreover, the feature to erase undesired data ensures that users maintain their privacy and manage their storage efficiently.
Features:
Multifunctional data recovery, with options for storage media and Windows data recovery.
Free recovery up to 1 GB of data from the iPhone.
Recovery capabilities for encrypted drives, ensuring data privacy.
Erase unwanted data, offering users more control over their data
Dr. Fone is renowned for its adeptness in retrieving an array of file types, from images and videos to texts and contacts. The tool's prowess in seamlessly pulling data from iTunes and iCloud backups makes it a top choice for iPhone users who have encountered accidental deletions or other data mishaps. One of its standout features includes the retrieval of HEIC photos from iCloud, ensuring no memory goes amiss.
Features:
Broad spectrum recovery capabilities, encompassing notes, voicemails, call histories, and more.
Preview functionality that lets users scrutinize backup files before initiating recovery.
Unique ability for mobile phone password retrieval, enhancing utility.
PhoneRescue for iOS, developed by iMobie, offers an all-encompassing data recovery solution for the iOS ecosystem. Its capability to retrieve an impressive 25 types of data, combined with three distinct recovery modes, ensures comprehensive coverage. What sets PhoneRescue apart is its dual functionality: not only does it act as a data recovery tool, but it also doubles as a solution for common iOS glitches like crashes or freezing. With its intuitive design and powerful recovery abilities, it's a guardian angel for any iOS user facing data challenges.
Features:
Recovery for a wide variety of data forms, including messages, photos, videos, and more.
Efficient preview system, letting users sift through backups and select data for restoration.
Ability to retrieve crucial messages even in the absence of backups.
Compatibility with both iTunes and iCloud backups, ensuring data can be retrieved even in cases of device malfunction or theft.
Finding the Right iOS Data Recovery Tool for You
In today's digital age, our devices house invaluable data, from cherished memories captured in photos to critical contacts and messages. Losing this data can be a daunting experience. However, with the evolution of technology, we have a myriad of iOS data recovery tools at our disposal, each with its unique features and capabilities.
Whether you've inadvertently deleted crucial files, experienced a system crash, or faced any other data loss scenario, the tools listed in this blog offer a beacon of hope. While each tool has its strengths, the right choice depends on your specific needs and preferences. It's always recommended to assess the features, ease of use, and compatibility before zeroing in on one.
The post 10 Best Data Recovery Tools for iOS (August 2023) appeared first on Unite.AI.